Customer Testimonials
---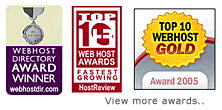 Below is a list of feedback and comments our customers have made with regards to the service that LYPHA™ provides.





I have to say that the support at Lypha is its best asset. It's the only department that responds to requests and questions within minutes.

- Scott Blackburn (perfectnumber.org)
---
"Fast server, Fast connection, Good Support, Great prices! I think Evrsoft.com has found the perfect home!!!"
- Ken P.
evrsoft.com

---

"You guys are an amazing host provider!!!"
- Marco S.
onerivermedia.com

---

"Thank you for your continued GREAT support."
- Dan Stauss
memlaneantiques.com

---

"I have been beyond impressed at the speed of your support team. Last night I had a database error show up at about 7:10PM. I had seen this once before but it was on a table that did not hold any important information. So I dropped the table and recreated it. Well it happened again last night and it was on one of the most important tables in my database. I put in a support ticket at around 7:15PM, and by ~7:40 I was back up and running. At 7:51 I received an email from Lisa telling me what the problem was. I just wanted to let you know what I thought so far. Keep up the good work. Hopefully the good things will continue."
- Christopher Riccio
pocketotaku.com

---

"Thanks for pleasant hosting experience! After moving from one provider to the next for over two years, I've finally found one that knows how to balance cost with a professional service offering."
- David Ownby
onlinecasinonet.net

---

"I am very impressed with the level of support and the responsiveness that I have received in every inquiry I have placed. I'll be referring you to people who ask. You guys are great!"
- Lee Jones
fccfontana.org

---

"You guys have been the most responsive host I've worked with since 1997. Quick turnaround on Sunday after a major holiday is great!"
- Ben Wilson
parksforcongress.org

---

"Thank you for showing me what professional quality hosting is all about. The features offered by you are without equal, especially when one considers your tremendously low prices. AdWWWorks relationship with your company has just begun."
- Frank Breyette
adwwworks.com

---

"Everything is working great now. A very impressive service."
- Nick Hearnshaw
amunisi.biz

---

"I have noticed you have a great service and I would recommend you to anybody! I have already got you some business for you LOL! My friend signed up with the domain a while back I want you to tell me exactly how you feel about this. I want to remain a member here. Thank You for everything!"
- Christopher Greer
lordzofaudio.com

---

"I am enjoying your web hosting services and wish to keep you folks as my web host for as long as possible. I have been referring everyone I know to you guys!"
- Matt S.
slashxonline.com

---

"You have the best web hosting service I have seen!"
- Parker Ellis
Theparafiles.com

---
"You guys are the best. Everything is in order and working great!"
- Jason Cummins
eonbox.com
---
"I was aided by both Jase & James. Between them I had the issue resolved overnight (I started late!) - THANKS!!! I am always impressed with your support."
- Scott Martin
docmartin.org
---
"I got my questions answered extremely quickly, and my problem was well-explained. I was also able to have my problem fixed from the ticket, instead of having to go through a bunch of other places. Overall, I am very impressed by the high quality service I have received."
- Dianne Farnham
koopashell.com
---
You always give me quick, friendly and helpful answers. I definitely don't plan to change to any other hosting provider: I've always been really happy with your service.
- David Nelson
---
FYI, I am absolutely amazed at how good your web hosting service is! Best wishes and watch for me, because I'll be moving over all of my sites soon.
- Noel Jeffrey
---
This hosting account is great, no problems at all! Best thing for me is reliable email. I don't have any complaints at all, speed is great as expected which makes it nice to do web development work on as well if I am uploading stuff all the time.
- Michael Lee
---
I'm already more pleased within the first 48 hours of being with you guys than I had been in months at the last place. I've already mentioned you to some friends, and I'll continue to recommend you to anyone I know looking for web hosting. "
- Virginia Sowers
---
The staff are the most helpful and friendliest I have seen in this business. Their commitment to their work, as well as to the environment is not just notable but also admirable.
- Andrew S. Mason
---
Everything is working great now. A very impressive service.
- Nick H.
---
My friend has a web hosting account through you guys and I heard what a great service and business you run.
- ROCKSMACK@excite.com
---
"If you folks ever need any testimonials, please let me know. You guys are the best hosting service in the business and believe me I've tried several."
- Lisa Jensen
---
I already have a domain, and I just renewed it with them so I don't need you guys to do this part of it. Thanks for the great service though.
- Steve M.
---
Finally! A company that really delivers what they promise! Just a short note to let you know that our IT department is very impressed with your customer service, attention to detail, professionalism, and your connection speeds. I now have confidence that we can deliver what we have promised our clients because of your support. Keep up the fantastic work!
- Tim Smallwood
---
"I have never had a better web host! There are obviously many companies out there who could take a few lessons on pricing, customer support, and Web page design."
- Alain Meyer
---

Add your own testimonial to our web site
At Lypha.com, customer service is our top priority. If you are happy with our quality of service and you want to add your testimonial to our web site please fill out the form below. There will be a special prize each month for the best site and in addition, we'll put your name, URL and a screenshot online.