30 Day Money Back Guarantee
---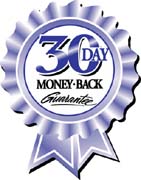 Try us out risk free!

At Lypha.com, we provide quality hosting and are rated #1 for our service and support by many independent web hosting review companies.

We are so confident in our service that we offer a 30-day, money back guarantee if you are not satisfied with any portion of our service, no questions asked!

Domain Name Registration:
Domain name registrations are non-refundable and non-changeable. As changes are no longer allowed after the registration request is submitted, customers should verify correct spelling and number of years before buying their domain name.

Promotional Bonuses:
Any additional promotional items included with your services can not be redeemed for credit or cash.




Verified by Safe Shopping Network™
Official Safety Scores for Lypha Networks: 100/100
LYPHA™ has achieved a 100% trust and safety score by SSN. The Safe Shopping Network screens and tests sites to help consumers decide which sites are safe to shop at. To view our score marks, click on the seal mark on your right.