FREE & EXCLUSIVE to LYPHA™ customers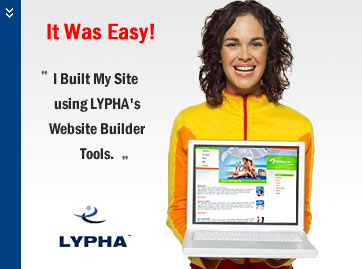 Get a Website Builder for FREE!
Signup today and get the award winning online Website building tool! We've included the site builder to ensure we cater to both beginners and advanced users.
[LIMITED TIME ONLY - UNTIL LICENSE RUN-OUT]



Now you can create an amazing web site in minutes — with no prior experience. Our professional website builder tools makes it easy!

Benefits:

Get started quickly with our Site Creation Wizard


Choose from 500+ fully customizable templates


No HTML Experience Required


Fully Integrated Website Statistics


Point and click Easy-to-Use WYSIWYG Editing capabilities


Create your own fully integrated on-line shopping store or create an Amazon.Com Web Store.


Design the site you want with tables, forms, precise layout tools, automatic e-commerce, and more!



Each customer will receive this BONUS tool:




SWSoft® SiteBuilder™
Pros: 100+ vibrant website templates to choose from, very easy to use, basic editing capabilities.


Target: For beginners to intermediate users.

SWSoft SiteBuilder™ is a next generation, browser-based WYSIWYG application for creating and editing websites. This tool is designed for beginners/new comers to website development and website building. The easy 5-Step wizard interface provides the effortless way for you to create, modify and update your own websites without any technical HTML know-how.




Choose from over 500+ SiteBuilder Templates:
Choose from 500+ website templates — including great new designs for business and personal use — to get started fast! Our templates include everything you need to build a professional-looking site, including industry-specific layouts, high-quality graphics — even e-commerce functionality. And the templates are completely customizable so you can always have the site you want.


Use Slider to Scroll >>>>>>




It's easy building your first website with LYPHA™

Whether you're building a business site or a personal homepage, it's easy with our website builder tools! Now anyone can build a functional and professional web site with LYPHA™ using the industry's leading online web site development tools. No programming skills nor software required - just a web browser and an idea and the system will do the rest.